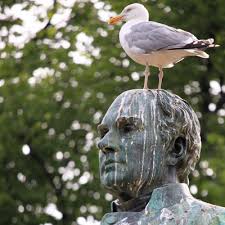 I see statues topple across many states.
An effort, they say, to be rid of the hate.
Why then at night, with impetuous rage?
Must we burn up the book just to turn from a page?
With various shades of our sensitive skin,
Our hearts are distressed by the mess we are in.
But smashing down idols and raising up others
Won't change what went on among our forefathers.
The blood being spilled on both sides of the street
Won't quiet the wailing or turn down the heat.
It's hard, with the noise, to sort victims from vandals.
It's more than my simple, old mind wants to handle.
We all want to choose which history we read.
We're influenced by people with hearts full of greed.
Who's statue could stand after scrupulous study?
Whose motives are pure, and whose past is not muddy?
I ask myself, searching, where is my fault?
Did I do something wrong or not do what I ought?
My questions are many. Good answers are few.
Conversations are stirring, but nothing is new.
One answer I find is more a command,
Spoken and published by God's mighty hand.
"No god before Me." He meant what He said.
But rather than listen, we'd rather be dead.
He was not only speaking of statues man-made,
But those gods we keep hidden and take to our graves.
Please don't think me "judgey" or taking a "side."
I'm in this world with you and living this ride!
All the rebellion and turmoil we face,
"Lord, please have some mercy, and give us some grace."
If I can take something of value away,
From these past few months, and their black, white and gray.
This is it:
Don't build a statue when I'm dead
Or carve an image of my head.
Just put my name on my flat grave.
Write, "One more soul who Jesus saved."
Do not debate for bronze or brass,
And please don't beg or borrow cash.
The price for me already paid.
I'm one more soul who Jesus saved.
Remember me? I hope you do,
For being good and kind to you.
Embellish not my Christian ways.
I'm just a soul who Jesus saved.
From God my blessings flowed to earth.
Aside from Him, what am I worth?
A "Thank you, friend," is what I crave
From souls I've led, then Jesus saved.
Should words I've rhymed or stories penned
Live well beyond my fragile skin,
No torch to light the paths I've paved,
Except the one where Jesus saves.
If in the time before I'm gone,
Great fortune, deed or battle won,
Give honor, worship —ALL the praise
to Jesus. He's the one who saves.
Rita Klundt
1 Comment